Providing Quality & Reliable Electrical Services
Our company is family owned and operated. We pride ourselves on return customers and 'word of mouth' advertising. No job is ever complete until you, the customer, are 100% satisfied.
We are dedicated to serving our customers' needs and our goal is always 100% customer satisfaction. We strive to bring you the best in quality service and take the time to do the job right. If something isn't right, please let us know.
With a journeymen electrician assigned to every project, we ensure work is done efficiently and with precision. We don't like to waste time or energy. We make it a point to assess every project, creating a plan and strategy to get the job done.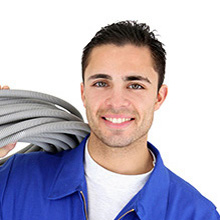 Testimonials - What our Clients Have to Say
"We appreciate Steve's work at our Erbert & Gerbert's Sun Prarie, WI location. Thanks Steve for your craftsmanship the past month! Excellent work!"
- Bill & Kathi Sergenian, Owners
"Appreciate how fast you came, it made our remodel more smooth."
-J. Fobbe, Homeowner
"Thank you! The electrician was neat, tidy, and knew what he was doing! I will call again for more work." - M. Maki, Homeowner